Standing seam Zinc roofing is now a viable alternative to traditional materials. More are turning to metal roofing for domestic purposes due to the longevity on offer. This makes standing seam roofs a cost effective solution. Most types of domestic roofs, depending on what materials you use will only last for 20-30 years before they need replacing.
Standing seam Zinc roofing is a method that connects panels together to form the roof. These panels tend to run vertical up the length of the roof.
It's common to see this type of roofing design for both roofs with pitches and flat roofs such as extensions. You can see several examples of our standing seam projects on this page.
This page contains out latest standing seam Zinc roof projects. It´s possible to have various styles which include attaching to a flat roof or adding dormers to name a few designs. Below we showcase some of these different styles you can choose from.
Standing Seam Zinc Roof With 14 Dormers
We were proud of the end result of this standing seam Zinc roof with 14 dormers. This was a commerical property in the Richmond are of London. The client was looking for one of the top Zinc metal surfaces for longevity. This project features VM Quartz Zinc by leading supplier VM Zinc.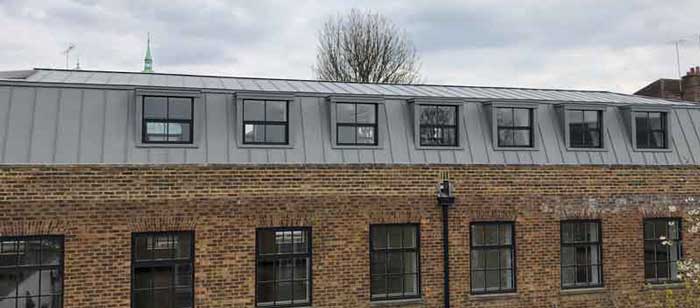 Mansard Roof Using Rheinzink
Rheinzink is another leading supplier of titanium Zinc products. Below was a project we completed several years ago in Farnborough, Hampshire. The installation includes adding a standing seam Zinc roof to a mansard style roof. You can check here on the Rheinzink website for some of the different style standing seam products there offer. These include single and double lock systems, batten seam roofing and flat lock tiles.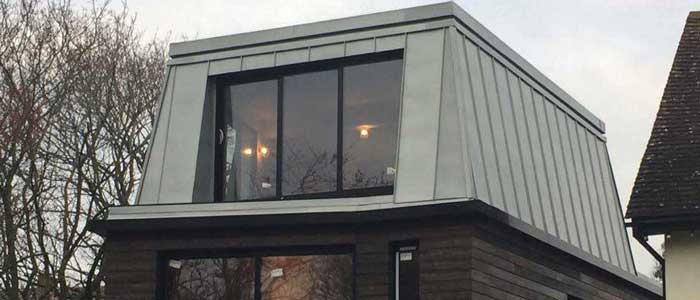 Standing Seam Roof To Commericial Building, London
Another fine example of our workmanship using Rheinzink products to create a standing seam roof structure with dormers. This project was in East London and offers plenty of light to the office space through the dormer windows.