Zinc dormer structures are growing in popularity for both domestic and commercial properties. This style of roof was more typical for residential homes until recently. More businesses are beginning to take advantage of dormers using metal materials such as Zinc.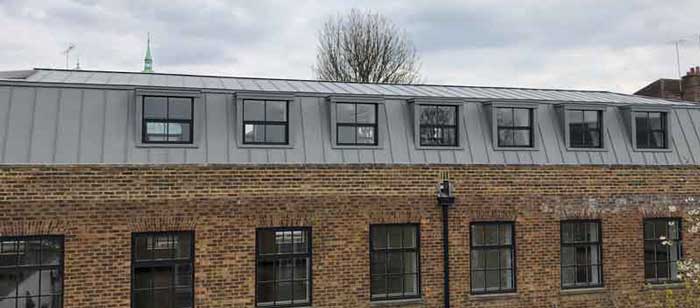 A Zinc dormer is the same as a standard residential dormer in many respects. This roof style is common for creating extra living space to your property. More are turning to dormers to convert their attic space into a liveable area. Another advantage is adding extra light to residential and commerical properties. This can also improve the general structure and interior of your roof.
What Is A Zinc Dormer?
A Zinc or any other type of dormer usually contains a window inside the structure. This is common on roofs with pitches but can also be a feature of a flat roof. Usually a dormer projects vertically from the plane of a roof pitch. The beauty of a dormer is that it´s possible to add at any time. It´s not necessary to include in the orginal plans of your roof structure. A dormer can be added to most existing residential roofs or commercial buildings. Again, this is very common for converting a standard roof to provide extra living space.
Advantages of Adding A Zinc Dormer To Your Roof
Below are just a few of the many benefits of adding a Zinc dormer to your roof.
A great way to add extra living space to your residential property. This roof structure is common for attic and loft conversions. You can also extend the roof space of commerical buildings and offices.
Adding a Zinc dormer will allow extra light to enter your living space.
Installation of dormers can help to improve the exterior and interior structure of your roof.
There are many beautiful designs available which can improve the value and aesthetic appeal of your property.
Zinc is one of the greenest metal materials around with a 100% recycle rate.
Zinc metal tends to have a lifespan of up to 100 years. You should expect at least 50 years.
Example of A Residential Dormer Installation
The image below is an example of a recent residential project where a Zinc dormer was added to the existing roof. This project was done using Anthra Zinc which is a leading material of VM Zinc.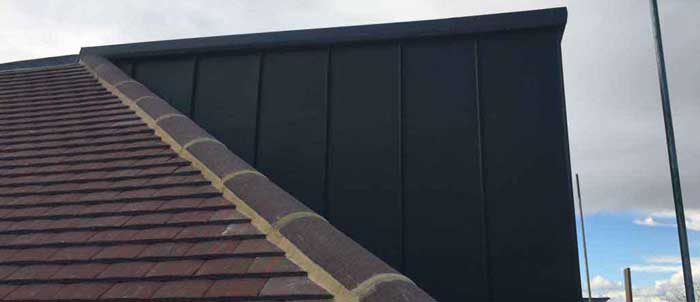 You can find more beautiful examples and styles here on the Rheinzink website.
Standing Seam Roof With Dormer Installation
The main picture on this page is one example of a recent zinc dormer project. This is a standing seam installation which includes 14 dormers for a commerical building in Richmond, London. The images displays 7 of the 14 dormers with 7 more on the other side of the roof. We include more images for this feature project to the side of this page. These will appear below on a mobile devide and some tablets.