Our company are experts with all types of Zinc cladding using only the best materials. We have an excellent reputation for our services with many professional projects in our portfolio.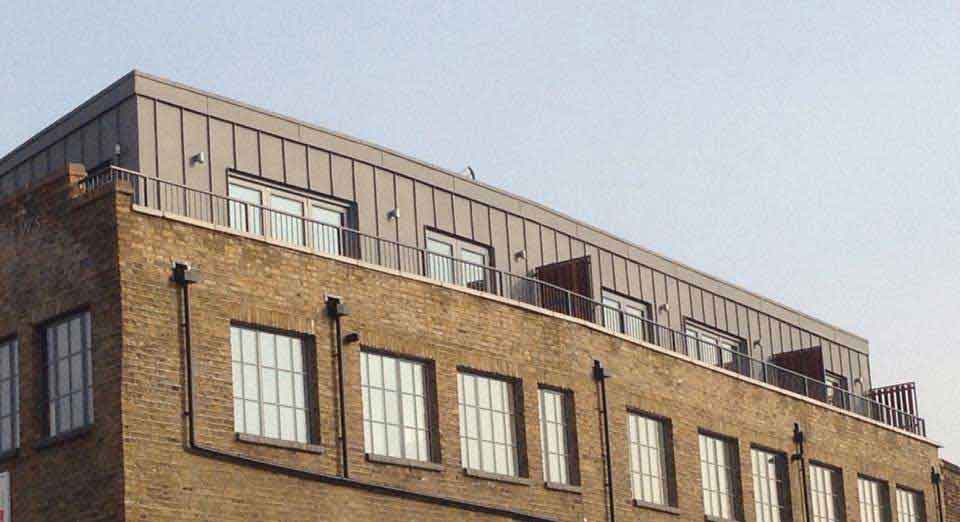 Benefits of Zinc Cladding Panels & Facades
Zinc is one of the top metal materials for cladding and facade systems. This is due to it's excellent durability and sustainability. Most good products can last up to 100 years with a high quality installation.
Another benefit of Zinc for wall cladding and facade systems is it's 100% recyclable. This is the greenest metal material around which is why it's become so popular.
Zinc is one of the softer metals which also has the lowest melting point. It's much easier to manipulate this metal to create intricate shapes. This is one of the main reasons it's so common to use this metal for facade systems.
Facade cladding is maintenance free and will last for generations. The flexibility of this metal makes it ideal for most architectural designs.
VM Zinc Cladding & Facade Systems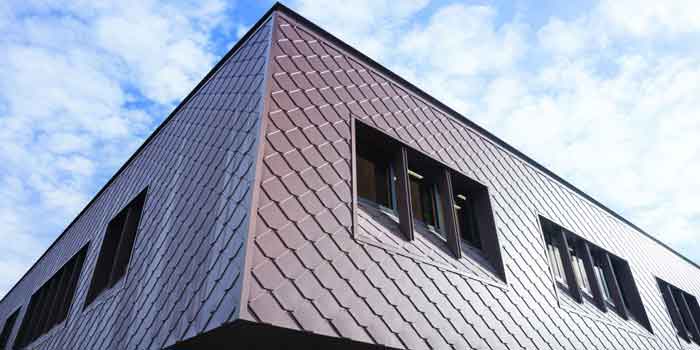 We often buy our materials from VM Zinc which is the market leader for cladding and facade systems. Below is a little information about some of these systems. You can visit this link to see more details about each.
Vm Zinc Interlocking Panels are ideal for new builds and renovation projects. Some of the benefits of this system includes low maintenance and being long lasting. These panels have a modern aesthetic look which conceals the fastenings.
The Flat Lock Panel system is available in several different shapes. A key benefit of this system is it can have either a vertical or horizontal installation. This system usually attaches to a vertical wall or soffit.
The Standing Seam system is one of the most popular cladding systems. It doubles as a ventilation system which allows the installation on walls and roofs. The standing seam system is available in many different surface finishes.
Composite are panels with two layers of Zinc which measure 0.5 mm each. This smooth finish is available in Quartz-Zinc, Anthra and Pigmento surface aspects. These panels are strong but also very flexible. This makes them easy to bend into unique shapes to suit most building designs.
More Cladding & Facade Systems
The Adeka system is unusual as it requires no mechanical tools to fix together. This is one of the most lightweight systems which is ideal for all surfaces. The unique locking system allows for the quicker installation of panels.
Overlapping Panels contain all the aesthetics of traditional wood panels. The panels are easy to connect with an interlocking ford. One of the most elegant systems which requires horizontal laying.
The Sine Wave Profile finish is most common for corporate and industrial buildings. This system has a corrugated profile which is suitable for contemporary designs. This is one of the most cheaper systems which is easy to install.
Mozaik is an elegant modular cassette system for ventilation cladding. This system has much larger panels which have clean lines. There are also many different surface aspects, depths and formats to get creative.
Zinc Cladding Cost Per m2
Zinc cladding cost per m2 will depend a lot on who the supplier is. Some of the cheaper systems can cost around £15-20 per m2. The better suppliers will charge up £35 per m2  and in some cases even more for the materials.
We tend to work with all the leading suppliers which are cost effective. Although £35 per metre square is accepted, there will be an installation charge on top. You can visit our main page to find out more details about the cost of Zinc roofing plus the benefits.
It's also worth pointing out that these prices can change depending on the market. Contacting us to get a quote is always the best course of action.
Latest Zinc Cladding & Facade Projects
Below are a few of the cladding and facade system projects we have completed.