The image at the top of the page is a latest project using Quartz-Zinc. On this project we were using that material for a new flat roof. You can see more projects with this material at the bottom of the page.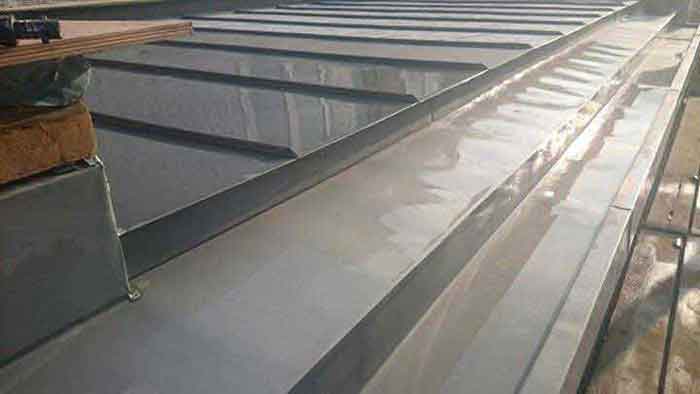 What Is Quartz-Zinc? Advantages & Benefits
Quartz-Zinc has a beautiful appearance and texture that hardly changes over time. If scratches occur on the surface, this metal has the ability to self heal.
Another benefit is the grey tones blend well with most surfaces. This can be existing construction materials such as stone, wood and slates. You can also use this material for new build projects and refurbishments.
This material develops a similar natural patina to Natural Zinc over time. VM Zinc was producing Natural Zinc way back in 1837 but Quartz since 1993.
The dimensions of this material for sheets, coils, panels and gutters range from 0.7 mm to 1.5 mm in thickness. The texture and finish of this metal is pre-weathered. This pre-weathering process involves a surface treatment of Natural Zinc. That process is under tight control to make sure the risk of variants in colour are minimal.
Some of the best qualities include being very attractive, durable with low maintenance. This material is suitable for roofing, cladding, facades and rainwater systems. Other uses include heritage and ornamental metal projects.
Colour Can Darken Over Time
It's possible that the colour of this metal may darken over time. This could depend on the type of installation and exposure to extreme weather. The natural patina develops much the same as Natural Zinc. This patina helps to ensure that the metal will have a long durable low maintenance life. It also helps to protect the surface metal from damage due to extreme weather.
One small downside with some Zinc roofing materials is white marks that can appear on the surface. This is usually when the surface is exposed to heavy rainfall on a regular basis. A way around this is to make sure the surface has a rinse and clean from time to time. If you do get white marks then it's nothing to worry about. This does not reduce the lifespan or durability of the metal.
Quartz Zinc Cladding Project
The image below is a recent project for VM Quartz Zinc cladding.